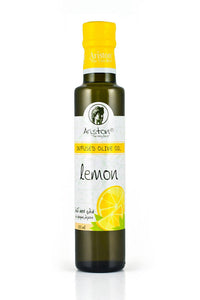 Introducing our lemon-infused virgin olive oil, sourced and produced in the sun-kissed groves of Greece. Our artisanal oil is created using the highest quality, hand-picked olives, cold-pressed to perfection, and infused with fresh, zesty lemon.
This oil offers a delightful and refreshing twist to your cooking routine. The lemon infusion adds a vibrant and tangy flavor that enhances any dish, from grilled vegetables to roasted chicken. Its light and fruity aroma combined with the tangy taste of lemons makes it an ideal accompaniment for seafood and salads.
Our lemon-infused virgin olive oil is not only delicious but also packed with nutrients that promote a healthy lifestyle. It is high in antioxidants and healthy fats, which are essential for maintaining good health. Additionally, our oil is free from any harmful additives or preservatives, ensuring that you can indulge in the pure goodness of the Mediterranean diet.
In a beautifully designed bottle, our lemon-infused extra virgin olive oil is perfect for gifting to your friends and family who are passionate about cooking and love to explore new flavors. So why not bring a taste of Greece into your home and elevate your cooking with our lemon-infused virgin olive oil today?