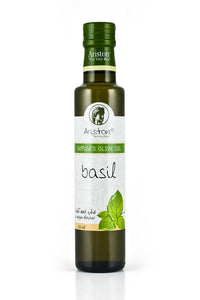 Ariston Basil Infused Olive Oil: A Culinary Symphony of Taste
Experience the essence of Italian cuisine with Ariston Basil Infused Olive Oil, a culinary masterpiece that elevates your dishes to new heights of flavor. Crafted from handpicked Koroneiki olives, renowned for their delicate aroma and buttery texture, this oil is meticulously infused with the vibrant essence of fresh basil, creating a symphony of taste that will tantalize your senses.
A Culinary Delight for Every Occasion
Whether you're drizzling it over a plate of al dente pasta, tossing it with fresh salads, or simply enjoying it with a warm crusty bread, Ariston Basil Infused Olive Oil imparts a touch of elegance and sophistication to every meal. Its vibrant basil notes harmonize perfectly with a variety of cuisines, from Mediterranean delights to hearty Italian classics.
A Burst of Freshness from the Heart of Greece
Our dedication to quality is evident in every drop of Ariston Basil Infused Olive Oil. Sourced from the sun-drenched groves of Greece, our Koroneiki olives are carefully harvested and cold-pressed to preserve their natural goodness and delicate flavor. The basil leaves, handpicked at peak freshness, are gently infused into the olive oil, ensuring a perfect balance of flavors.
Embrace the Essence of Basil
Unleash the culinary magic of basil with Ariston Basil Infused Olive Oil. Its vibrant aroma and fresh taste will transform your everyday dishes into gourmet creations. Indulge in the symphony of flavors and elevate your culinary experiences with this exquisite oil.