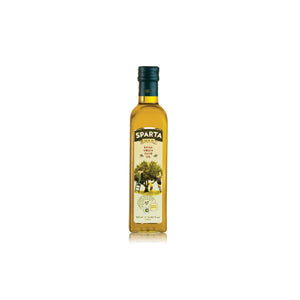 Sparta Gold Olive Oil is a top-quality choice for those looking to improve their health and wellness. This Extra Virgin Olive Oil is carefully crafted from select olives from Sparta the Peloponnese region of Greece, giving it a unique and rich flavor that is sure to impress even the most discerning of palates. Its bright green color and velvety texture are a testament to its superior quality, and its cold pressing within hours of being hand-picked ensures that all of its natural goodness is retained.
But Sparta Gold is more than just a tasty cooking oil - it is also a powerful source of health benefits. Recognized by the International Institute for Quality and Taste and the International Quality Institute, this olive oil is rich in monounsaturated fats and antioxidants, which can help to lower cholesterol, reduce inflammation, and support heart health. Its anti-inflammatory properties also make it a great choice for those looking to manage chronic conditions like arthritis or asthma.
So why wait? Try Sparta Gold Olive Oil today and experience the many health benefits it has to offer. Whether you're looking to improve your overall well-being or simply want to enjoy the rich, spicy flavor of authentic Greek olive oil, Sparta Gold is sure to become a staple in your kitchen.
When nature offers something so pure and precious such as Extra Virgin Olive Oil from the blessed Greek land, it needs to be cherished and preserved in the most suitable and healthy packaging. Glass protects not only the quality and taste of Sparta Olive oil but also your health too! It has been proven that glass leaves the oil and your body untouched. It is one of the safest packaging materials for human use and safe for the environment as well.
The transparency of our glass bottles magnifies the beauty of this naturally deep green-colored liquid gold
Nutrition Facts per 100ml
Energy value 3389kJ/824kcal
Fat 92g
of which
Saturates 13g
Monounsaturates 71g
Polyunsaturates 8g
Carbohydrate 0g
of which
Protein 0g
Salt 0g
| | |
| --- | --- |
| TYPE: | Extra Virgin Olive Oil |
| SIZE: | 16.9 Fl. Oz. (500 ML) |
| REGION: | Sparta, Greece |
| DISTRIBUTOR: | Alpha Omega Imports, Inc. |
| PACKAGING: | 16.9 Fl. Oz. (500 ML)  glass bottle.  |
| PAIRS BEST WITH: | Fish, any kind of Meat, Soft Cheese, Soups, Sauces, Leafy Green Salads, Garden Salads, Roasted/Grilled Vegetables |