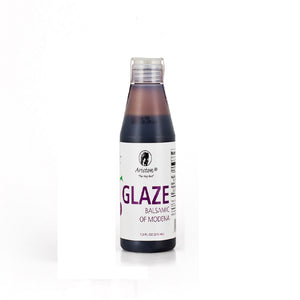 Our Balsamic of Modena Glaze is the perfect addition to any meal. Not only does it add a rich, tangy flavor to your dishes, but it also has numerous health benefits.
First and foremost, our Balsamic of Modena Glaze is made with high-quality balsamic vinegar, which is rich in antioxidants. These antioxidants help to protect your body from free radicals, which can lead to inflammation and disease. In addition, balsamic vinegar has been shown to improve digestion and help regulate blood sugar levels.
Furthermore, our Balsamic of Modena Glaze is made with all-natural ingredients, making it a healthier choice for your meals. It does not contain any additives or preservatives, making it a pure and natural addition to your meals.
In conclusion, our Balsamic of Modena Glaze is a delicious and healthy choice for adding flavor to your meals. Its antioxidant-rich balsamic vinegar and all-natural ingredients make it a nutritious and tasty choice for any meal.