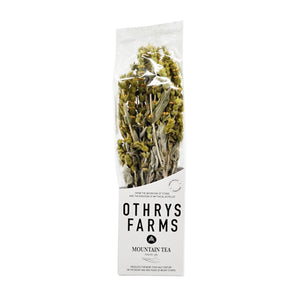 Description:

The plant Sideritis Scardica (Othrys), widely known throughout Greece with the common name Mountain Tea, is a healing herb with many properties. It is a perennial plant and its shoot has a woody texture at its base. The leaves are green spearheads, with white fluff, the petals of the flower are bright yellow. It grows on rocky soils of the subalpine zone of the rocky mountains of Othys. 
Ingredients: 
Dried Greek Mountain Tea leaves (sideritis scardica).  No caffeine/Handpicked/Handmade product.
Uses:
Othrys Tea herbal extract can be consumed at any time of the day by the whole family and children, even at night, before bed as it does not have any stimulant effect and of course, can be used in alternative therapies. During summer it can be used as a soft drink as imparts wellness, fighting thirst at the same time.
Preparation:
For each cup, calculate a teaspoon corresponding to 1 gram of product, add hot water at 95 o C (200 Fahrenheit) and leave it for 5 minutes. Strain if you prefer, and ready for use.
Beneficial properties:
It is rich in flavonoids, diterpenes, and specific volatile components (essential oils), offering our body anti-inflammatory and antioxidant protection.

It is a diuretic and detoxifier.

It has 

analgesic and antimicrobial action

Scientific studies suggest preventive benefits against the occurrence of eye cataracts, blood clots, and hypertension.

Mountain tea, unlike other types of tea, does not have a stimulating effect. Thus it can be consumed any time of the day,  even at night.

New scientific research in Germany is underway to prove that Greek Mountain Tea has a protective effect against Alzheimer's disease.

Packaging:
In stand-up pouch bags. Net weight 1.8oz e (50g)
15 servings per container.
Serving size: 1 teaspoon (2g)
Produced and package in Greece
Keep in a cool and dry place, away from sunlight