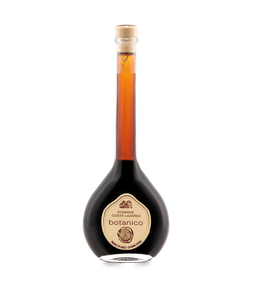 Award-Winning Balsamic Vinegar

Complex Flavor and Aroma

 
Versatile and Delicious

Add a Touch of Luxury to Your Meals
Botanico Gold Seal Aged Balsamic Vinegar of Modena is a truly special product. Made using the traditional Aceto Balsamico Traditionale of Modena method, this vinegar is aged for 10 years in a variety of different barrels, resulting in a complex and flavorful vinegar.
On the nose, Botanico Gold Seal has aromas of caramel, dried fruit, raisin, and honey. On the palate, it is viscous and superconcentrated, with big intensity and depth. The finish is persistent, discreet, and sweet.
Botanico Gold Seal is a versatile vinegar that can be used to enhance a variety of dishes. It is particularly good when drizzled over grilled meats and vegetables, or used in salads and dressings. A few drops can also add a touch of luxury to simple dishes such as cheese and crackers or ice cream.
Here are some specific ideas for how to use Botanico Gold Seal Aged Balsamic Vinegar of Modena:
Drizzle over grilled meats or vegetables, such as steak, chicken, salmon, asparagus, or mushrooms.
Add a few drops to salads and dressings for a complex and flavorful boost.
Use in marinades to add depth of flavor to meats and vegetables.
Glaze roasted vegetables or meats with a mixture of Botanico Gold Seal and honey.
Add a few drops to risotto or pasta for a decadent finish.
Drizzle over ice cream or other desserts for a touch of luxury.
No matter how you choose to use it, Botanico Gold Seal Aged Balsamic Vinegar of Modena is sure to add a special touch to your meals.